Browse our recipe collection. You're sure to find something appealing!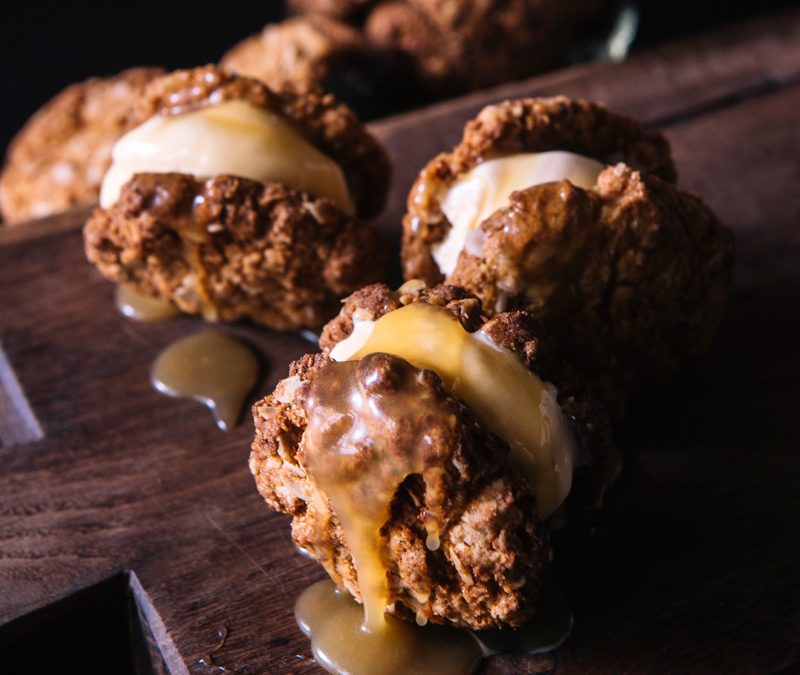 Ingredients
180g (2 cups) rolled oats
150g (1 cup) plain (all-purpose) flour
150g (⅔ cup) caster (superfine) sugar
60g (¾ cup) desiccated coconut
115g (⅓ cup) golden syrup
125g unsalted butter
1 teaspoon bicarbonate of (baking) soda
2 tablespoons hot water
Island Berries Salted Caramel Sauce
Method
Preheat oven to 160°C (325°F). Place the oats, flour, sugar and coconut in a bowl and mix to combine.
Place the golden syrup and butter in a saucepan over low heat and cook, stirring, until melted. Combine the bicarbonate of soda with the water and add to the butter mixture. Pour into the oat mixture and mix well to combine.
Place tablespoonfuls of the mixture onto baking trays lined with non-stick baking paper and flatten to 7cm rounds, allowing room to spread. Bake for 8–10 minutes or until deep golden. Allow to cool on baking trays for 5 minutes before transferring to wire racks to cool completely. Makes 35.
When assembling for the dessert. Place a biscuit on the plate, place a scoop of vanilla ice cream on top of the biscuit. Then place other biscuit on top.
To finish off the dessert, drizzle with Island Berries Salted Caramel Sauce.